Portable mini gold crushing and washing machine
BY
admin
| June 21st, 2013
For processing gold, there are many machines, such as the gold ore mining machines, gold ore crushing and grinding machines, gold ore feeder and screener, but sometimes, the gold washing machines are necessary. In Africa, the gold mine usually are the small types, ?but our portable mini crushing and washing machines can meet there requirement. We are a professional gold crushing and washing machine manufacturer in China, and specialized in the gold ore dressing plant. The?portable mini gold washing machines?is specially designed for the individual gold prospector and the geology exploration team to treat their bulk samples.?At this project, we manufacture gold wash plants able to handle between 30 tons and 300 tons of material per hour.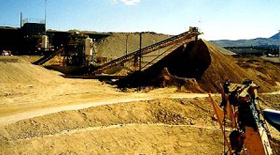 Portable mini gold washing plant?features:
(1)It has a simple structure, stable performance, high cleanliness, and little sand loss in the washing process, the service life is long.
(2)The structure is reasonable; the original seal structure.
(3)Large processing capability and low power consumption.
(4)Water-saving, without any pollution.
(5)Easy to maintain.
In the gold mining professing plant, except gold washing machines, we also provide complete series of gold crushing, grinding mill, vibrating screen and feeder, filtering machine, gravity separator, magnetic separator, flotation separator, thickener, dryer, belt conveyor, concentration plant etc. So know detailed?information, please contact us!